---
Custom Shop Inlay Gallery<!IMG SRC="grpgnl.jpg">
I am extremely fortunate to have working with me some of the absolute best inlay artists in the entire world. I realize that is a bold statement but I think you will agree after you see some of the samplings below. It will take a few moments for this page to download.


Ths Inlay is the one on the Poor Man's PRS Dragon

---

Colorful Moonscape on McNaught Guitar
---

Mermaid on a McNaught Guitar

---

This Inlay from the Crusader series (Check em all out)

---

Colorful Parrots & Birds

---


This Phoenix guitar is among the finest on my site
For more detailed info Click Here

---

This Phoenix Inlay is Wider & Fatter than the one above
---


Samurai Warrior Guitar
---

---

---

---

---
All the Inlay Work is Hand Done by
David Thomas McNaught Himself

Most manufacturers PRS, Gibson, Fender & even some of the small custom builders usually send a lot of inlay work out to people who specialize in that sort of work.

David McNaught does it all himself. I mean He By Himself personally does the entire guitar. He hand selects all the woods, He dries it himself, He hand carves the entire guitar, He frets, inlay's, sands, stains, paints, assembles, tunes and plays each guitar for over an hour himself.

He has promised me that he will never go into mass production.

In fact any McNaught guitar built with a serial number under 1000 will be totally and completely built by David himself.

All David Thomas McNaught Guitars are totally hand made one at a time from beginning to end by David himself.

They are all signed and numbered and the numbering is 100% legitimate.
There are no whirring computer controlled routers or other robotic machines at McNaught Guitars. Just old fashioned Old World Craftsmanship.
Very few companies can make this claim and still deliver such a high grade of consistent quality.
The David Thomas McNaught is my choice for the top guitar that I carry. The quality of the workmanship is totally unsurpassed. The deeply set in neck is fitted so that there is absolutely no heel. The Ebony or Macassar Rosewood fingerboard is second to none and of course the sound of the guitar is fabulous. Currently this guitar is the only guitar I know of still available with a Brazilian Rosewood Fingerboard.
---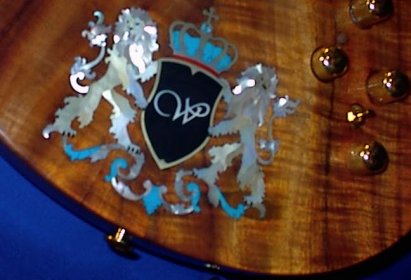 Dragon Inlay on my personal early PRS Guitar


I decided to redo the wings, The Original blue color didn't appear as rich as I expected

---

Pyramids
---

Unicorn Inlays
---



Mountains, Moons, Planets, Comets
Abalone, Mother of Pearl, Paua

---

Butterfly
---

David & Goliath
---

---


Berger Necks
---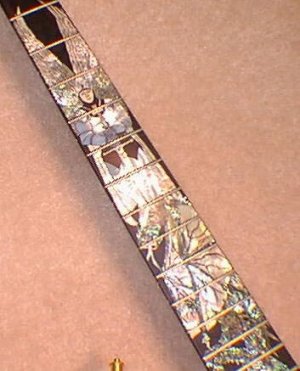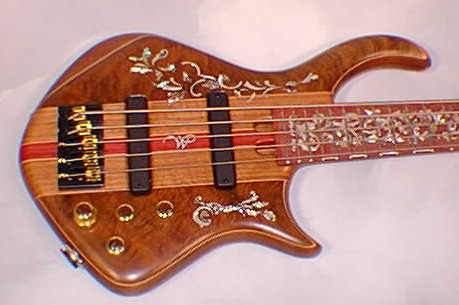 ---

---

---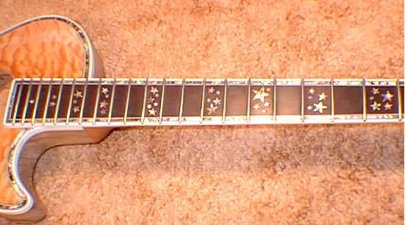 Stars Stars Stars and More Stars
---
At World Class Guitars, You can have your guitar the way you like it!
Not the way some Corporate Geek says you have to have it.

Abalam or Abalone Birds retrofitted on 1992 to 1995 PRS Guitars $200.00 (Pictured above)
1992 to 1995 PRS used Mother of Pearl inlays on all the Customs. Many people would rather have the Abalone. In 1995 PRS switched to all Abalam. I can convert your Abalam Birds to real Abalone if you like.
---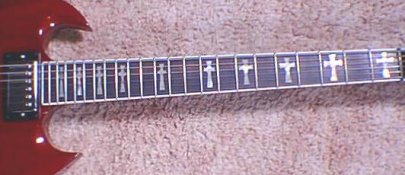 For Detailed Info On This Guitar Click Here
---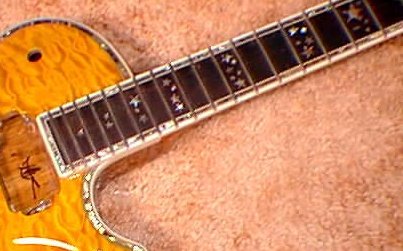 ---
For Detailed Info on this guitar Click Here

---


The Angel Bass
St. George the Dragonslayer
This must be seen close up to be appreciated

---

---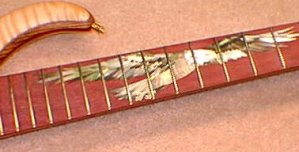 ---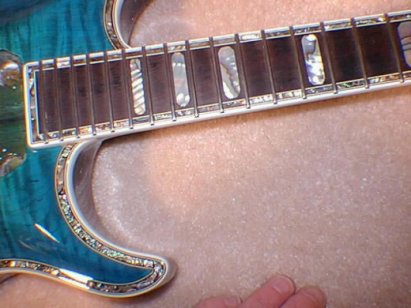 for detailed info on this guitar click Here

---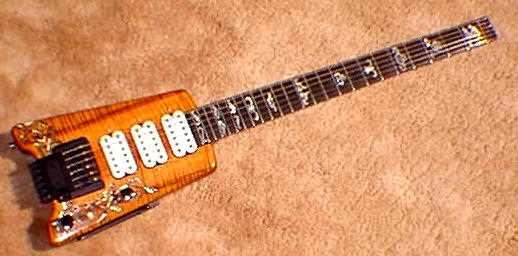 For Detailed info on this Guitar Click Here
---